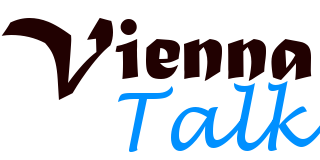 ViennaTalk ~ Live and Formal
ViennaTalk is a Smalltalk library to handle VDM-SL specifications.
Demo movies
Table of Major Components of ViennaTalk
VDMBrowser - A VDM-SL browser inspired by Smalltalk's class browsers and inspectors
VDMPad - A lightweight web IDE for VDM-SL with animation and diagram presentation of data
ViennaAnimation - Animation manager that encapsulate execution engine
Lively Walk-Through - A UI prototyping environment to animate UI prototype by VDM-SL specification
Webly Walk-Through - A Web API server to publish VDM-SL specifications of web APIs.
ViennaEngine - Animation engine wrapper

ViennaVDMJ - Animation engine by local VDMJ process
ViennaServer - Web server to publish animation engines
ViennaClient - Client module of ViennaServer/VDMPad
ViennaBankEngine - Aggregated animation engine

ViennaTalk-Types - Smalltalk classes for VDM types
ViennaTalk-Values - Smalltalk objects for VDM values
ViennaTalk-Parsers - VDM parsers, Smalltalk code generators and VDM source formatter.
What's new in the latest release
Codename Graz has been released. (May 5, 2022)

migration to Pharo 10
IM supports by default
FRAM collaboration support

Import operations from FRAM functions
Export operations to FRAM functions and aspects

Codename Boulder has been released. (Dec 31, 2021)

Refactoring browser based on AST manipulations is now experimentally available.
Base Pharo is upgraded to Pharo 9.

Codename Hakodate has been released. (Sep 4, 2020)

ViennaVisuals: a DOM library to generate XML document and bind UI events on DOM elements to handler operations

Codename Porto has been released. (Feb 5, 2020)

Base Pharo is upgraded to Pharo 8.0.
Better UI for Unit Testing on VDMBrowser.

Codename Cologne has been released. (Aug 8, 2019)

Base Pharo is upgraded to Pharo 7.0.4.
JavaScript library to use ViennaServer or VDMPad to evaluate VDM-SL.
ViennaDoc is a documentation tool to create an animatable and testable documentation.

Codename Lille has been released. (January 23, 2019)

Base Pharo is upgraded to Pharo 7.0.
ViennaTalk uses 64bits Virtual Machine by default (except Windows). Great thanks to the OSSubprocess team for the big improvements.
VDMJ bridge now works on Windows platforms using ProcessWrapper(in 32bits only).
Tested by CI servers by every commit. Travis is used for macOS and Linux builds and AppVeyor is used for Windows (32bits only for now).

Codename Oxford has been released. (July 1, 2018)

Source repository is migrated from smalltalkhub. Great thanks to Peter Uhnak for the migration tools.
Base Pharo is upgraded to Pharo 6.1.
ViennaTalk uses 64bits Virtual Machine by default.
VDMJ bridge now works on 64bits VM

Codename Harajuku has been released. (Jan 18, 2018)

VDM Directory Browser is a VDM browser for file-based management. The browser loads all .vdmsl files and writes into files when a spec is accepted on the specification pane.
ViennaUnit is a testing framework for VDM Browser. It runs all operations with the 'test' prefix in all modules with the 'Test' postfix.

Urgent update for Maribor has been released. (Aug 30, 2017)

The base Pharo version is back to 5.0 due to unstability of Pharo 6.1 (32bit)
You can still manually configure ViennaTalk "Maribor" on Pharo 6.1 (64bit) with a limitation that use of VDMJ is limited only via remote site (default https://vdmpad.viennatalk.org). This limitation is from the OSSubprocess package that ViennaTalk uses to execute VDMJ process.
Codename Maribor has been released. (Aug 28, 2017)

VDMDebugger integrated with Pharo's moldable debugger
migrated to Pharo 6.1 (32bit)
You can debug an auto-generated Smalltalk code with its source VDM specification on Smalltalk debugger, and step-execute by granularity of the source VDM specification.
Codename Ito has been released. (Feb 12, 2017)

Implicit/extended explicit functions/operations are supported by the pretty printer and code generators.
Exception statements (exit, always, trap and tixe statements) are supported by the pretty printer and code generators.

Codename Cyprus has been updated. (Dec 20, 2016)

A bug in formatter is fixed.
A bug in Lively Walk-Through loader is fixed.
A bug in Livetalk compiler is fixed.
Code generators produce init methods that assign state variables atomically.

Codename Cyprus has been released. (Nov 16, 2016)

Dropping a .vdmsl file will open a VDMBrowser.
Dropping a .lwt file will open a Lively Walk-Through window.
VDMC is renamed to ViennaAnimation
ViennaAnimation-Transpiler, which uses the code generator as an execution engine, is added.
Settings has Code Generator section to turn on/off runtime type checking and runtime assertion checking.
"use transpiler" and "use interpreter" is added to the VDMBrowser's module menu.
In Lively Walk-Through, the "use transpiler" option is added to the settings tab.
How to use
The ViennaTalk Launcher provides quick access.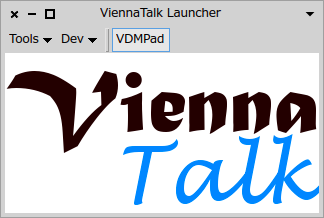 The tools menu provies shortcuts to the tools, such as VDM Browser, Lively Walk-Through and so on.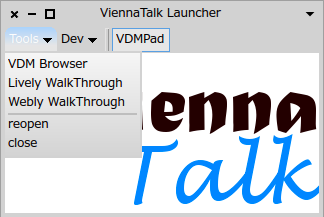 The ViennaTalk menu will be available in the World menu.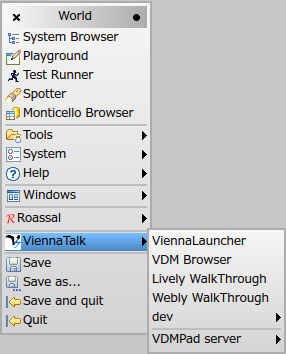 Settings
You can open the Settings dialog from either Tools»settings… menu of ViennaLauncher or System»Settings menu of the World menu.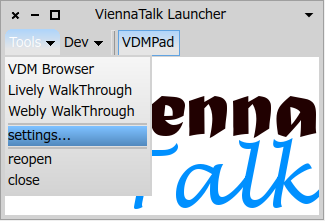 Then the Settings Browser opens.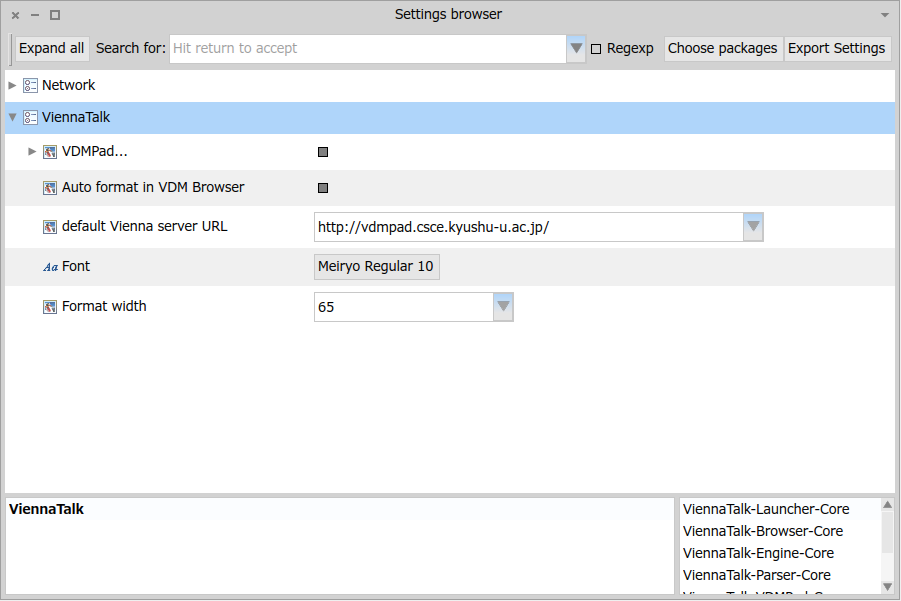 If you want to setup the font for VDM sources, you can click on the font to open a font chooser dialog.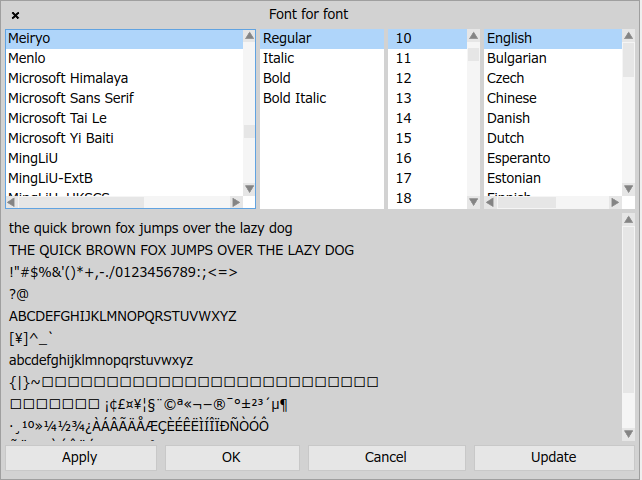 The update button will read all available fonts in the system. You can then choose the font family and point size, and press OK.
Acknowledgements
Part of the ViennaTalk project is supported by Grant-in-Aid for Scientific Research (S) 24220001 and Grant-in-Aid for Early-Career Scientists 18K18033 from the Japan Society for the Promotion of Science.
The ViennaTalk project is supported by Software Research Associates, Inc..